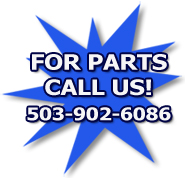 Whether you're trying your hand at a DIY repair or you're an appliance repair professional, sometimes all you need is one part to complete the job. At JR Repairs & Installs in Portland, we're available to connect you with the appliance parts you need, whether you're working on a residential or commercial unit. While we're happy to send our experienced technicians out to your location to repair any of your major appliances, we understand that some of our customers prefer to complete the work on their own. That's why we are happy to connect you with a third-party appliance replacement parts store that can fulfill almost any need, whether the part in question is common or rare.
When you require appliance parts and repair solutions, we have access to everything you need to get your major household or commercial appliance working smoothly once again. We can find solutions for residential, commercial, electric, and/or gas appliance repairs. Reach out today to access an impressive selection of:
Refrigerator parts
Oven parts
Furnace parts
Dishwasher parts
Dryer parts
Washing machine parts
Air conditioning parts

We're proud to provide Portland, Beaverton, Clackamas, and surrounding communities with quality customer service at all times, which is why we strive to make it as easy as possible for you to access the appliance repair parts you need. When you call, you'll get answers to all your questions about the kinds of appliance replacement parts you're looking for, so you can get the information you need to match the right component to your make and model.
Just have the model number ready when you call, and you'll get the exact part you need. When you go through JR Repairs & Installs, you'll be able to find a wide range of appliance repair part items, from the commonplace to the obscure, including:
Attachments
Axles, rollers, shafts, and wheels
Batteries
Bearings
Belts
Blades
Caps, lids, and covers
Compressors
Doors
Drums and tubs
Lights
Filters
Fuses
Gaskets and seals
Heating elements
Hinges
Dispensers and components
Hoses and tubes
Igniters
Knobs, dials, buttons, and latches
Motors
Pulleys
Pumps
Valves
And many more!
The appliance parts company we work with offers replacement equipment for all major brands, so whether you have a Maytag, a GE, or another type of unit, we'll set you up with the appliance repair part solutions that will have your machine running smoothly. You can even request next-day shipping, if you'd like. That means whether your washer has been acting up or your oven just quit, we're the appliance parts company you can trust for the components you need, when you need them.
JR Repairs & Installs is your go-to source for access to all the appliance repair parts you could ever need. We pride ourselves on our superior customer service, and our professionals are here to help make your next appliance repair project hassle-free. Call this number today to speak with a live person and place your appliance parts order. We'll help you get everything you need when it comes to appliance parts and repair!
We apologize for any inconvenience, but the 15% discount does not apply to parts.